Real World Demonstration of Pilot Wave Dynamics?
I hadn't thought it possible, but here is a fascinating result, as reported in Quanta Magazine.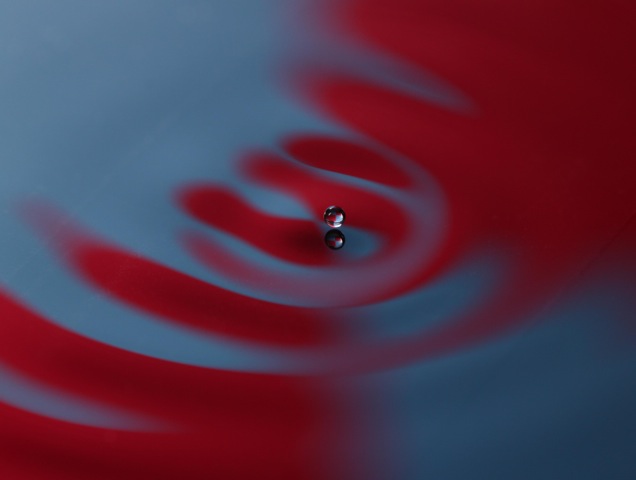 ---
2016 Asimov Memorial Debate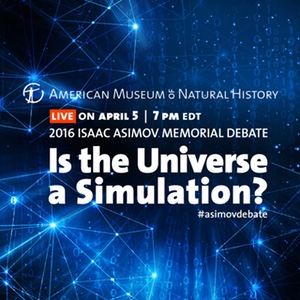 Further discussion on the topic "Is the universe a simulation?" With Neil DeGrasse Tyson, Lisa Randall, James Gates, Max Tegmark, David Chalmers, Zohreh Davoudi

---
2011 Asimov Memorial Debate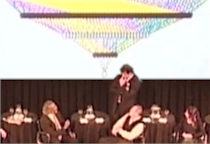 [at 1:02:26]
Neil deGrasse Tyson: So you're saying as you dig deeper, you find computer code writ in the fabric of the cosmos.
James Gates: Into the equations that we want to use to describe the cosmos, yes.
Pertinent transcript excerpts here.

---
Prof. Gates elaborates in Symbols of Power, Physics World vol. 23 no. 6 (June 2010) 34-39.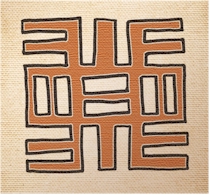 reprinted here by permission.
---
"...the point is not that a mathematical structure describes a universe, but that it is a universe."
- Max Tegmark
"Mathematical cosmos: Reality by numbers."
2621 New Scientist, 14 September 2007
---
DataEcologies
www.timesup.org/laboratory/DataEcologies
---

Reference Material, including links to Recommended Reading.
This page now features direct links to further reading in physics and computers for liberal arts majors. Topics include physics (digital and otherwise), and faith.
Recently added works by Karl Svozil.
Computational Universes by Karl Svozil.
---
Do we live in a computer simulation? Univ.Wash. researchers say idea can be tested.
"[T]he UW team has suggested tests that can be performed now, or in the near future, that are sensitive to constraints imposed on future simulations by limited resources."
New York Times 14-Aug-2007:
Our Lives, Controlled from Some Guy's Couch
John Tierney reports on Nick Bostrom's concept of living in a computer simulation.
Wired magazine:
December 2002 issue on theme of Science and Religion [Issue 10.12]
God is the Machine Excellent survey of Fredkin/Wolfram/Zuse thinking.
The New Convergence Excellent survey of intrusion of metaphysics into science, refusal of religion to fade.
---
Did the Universe Just Happen? Recently posted by The Atlantic, this is the seminal interview with Fredkin by Robert Wright (1988).
---
Technical Papers of Interest.
For those of you from Missouri -- "show me." Although the BottomLayer has been designed for the generalist, many of you have been interested enough to feel an urge to go to the data. I commend the impulse, and so I will be posting papers that have struck my fancy.
---
Book Review:
Rocks of Ages
Stephen Jay Gould (MHRIP)
More than a book review, this essay reveals the impulse. It is really a sermon and a testimony.

Books Review:
A World With A View

The Dancing Wu Li Masters
Gary Zukav
The Cosmic Code
Heinz Pagels
Quantum Reality
Nick Herbert

A review of three book-length surveys of quantum reality.
---
Guest Columnist:
John Deutsch
I. Relationships Among Phenomena at a Unitary Level (The Hierarchy of Time and the Golden Ratio in h )
Intriguing mathematical relationships appear when one "quantizes" the basic units of time, space, energy and mass. h, the quantum of action, may not be fundamental, but a composite of two deeper quantities related to each other by the Golden Ratio.

II. Calculating the neutrino mass
Mr. Deutsch derives a hypothetical mass for the neutrino.